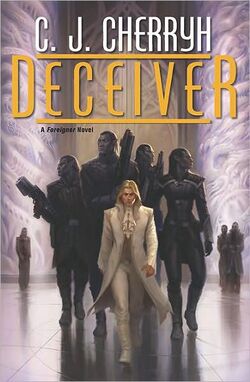 Welcome to the Shejidan Wiki!
[
]
Here you can find information on the world of the Atevi as described in the Foreigner series. We may eventually expand to cover some other works of author C. J. Cherryh, including tales from Compact Space. For the Union/Alliance books, please see the already established wiki at: Alliance-Union Wiki
For related discussions, please also see: Shejidan Forum
Please feel free to contribute!
[
]
All entries to the wiki should be backed up with footnotes directly from the books or from a published interview or similar source (e.g. Ms. Cherryh's blog). Speculation (i.e. supposition without a cited reference) generally belongs on the "talk" page for regular pages, until confirmed or discredited by a "canon" source. There is, however, the Unanswered Questions section, which allows less rigorously researched posts.
Some topics we'd love to see:
If you know of a web page that already contains some of this content, please obtain permission from the owner of the page before copying content here. However, even if you are unable to reach the owner of the page or the owner does not give permission to use the content here, it can still be very helpful to create an entry describing the content briefly, and providing a link off-site.
Recent Activity
[
]